AGRO-PROCESSING PROGRAMME
The DTI has just launched the "Agro-Processing Support Scheme" that encompasses quite a broad range of Qualifying Activities:
Description of Qualifying Processes/Projects
New and existing agro-processing/beneficiation projects. This can also involve a wide range of processing or beneficiation activities of post-harvest, that result in value addition and/or enhanced storage life, such as cleaning, sorting, grading, waxing, controlled ripening, labelling, packing and packaging, warehousing, canning, freezing, freeze drying, wood carving, extrusion, synthesizing, polymerisation, and various levels of processing that change agricultural product form. In the forestry value-chain may also include sawing, pulping, peeling and preservation.
The APSS will be targeted at five (5) key identified sub-sectors (focus areas) as follows:
(i) Food and beverage value addition and processing (including Black winemakers);
(ii) Furniture manufacturing;
(iii) Fibre processing;
(iv) Feed production; and
(v) Fertilizer production.
The details are included in the guideline summary below: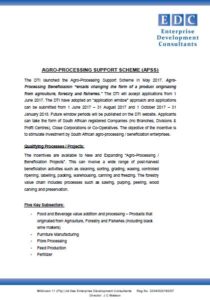 All material subject to our Legal Disclaimers.