Changes to Amended COGP – Gazette 42496
Government Gazette 42496 was published on 31 May 2019 and contains many notices and legislative changes that are not in force from 31st May but become effective from 1 December 2019. This means that Measured Entities can choose to use them now or can delay using them until 30th November 2019 at the latest.
This is an overview of the changes. Some of these changes will have a knock-on effect on the Sector Codes.
Amendments to the QSE or Specialised Enterprise Scorecards remain the subject of subsequent Gazettes but changes to definitions, procurement recognition rules and ED and SD beneficiary qualifications would apply universally across the Dti Codes.
Revised Schedule 1 Interpretation and Definitions
Major Changes are as follows:
Absorption
Now restricted to the securing of long term employment and no longer includes further education and training. This is a significant change affecting 5 Skills Development Bonus points.
Designated Group Supplier
This is a clarification and means a supplier that is at least 51% owned by black people defined under Black Designated Groups.
Long-term contract of employment
Means a legal agreement between an individual and an entity that would employ the individual until his or her mandatory date of retirement.
30% Black Women-Owned
Means an Entity in which: (a) Black women hold at least 30% of the exercisable voting rights as determined under Code series 100; Black women hold at least 30% of the economic interest as determined under Code series 100; and (c) has earned all the points for Net Value under statement 100.
Current Equity Interest Date
Replaces Net-Value Date with an amended wording that relates to the commencement of the Time-based Graduation Factor. It means the later of either the date of commencement of statement 100 or the date upon which the black ownership transaction became effective and unconditional.
Qualifying ESD Contributions
Amends qualification of beneficiaries to 51% Black Owned or Black Women-owned QSEs or EMEs. Previously it included 30% Black Women-owned entities.
Revised Code 000, Statement 000: General Principles
Priority Element Compliance now explicitly states that Skills Development excludes Bonus Points and specifies the sub-minimum points for the three categories under ESD.
Priority Element Compliance confirms that 51% of Black Owned QSEs who benefit from Enhanced Recognition do not have to comply with either of the other two Priority Elements.
The wording of the Priority Element Discounting for QSEs has been tightened.
Enhanced B-BBEE Recognition for an EME or QSE that is 51% or 100% Black Owned leading to a Level 2 or Level 1 BEE Recognition Level must be measured using the flow-through principle and not modified flow-through

.

A

new section Eligibility of Joint Ventures

is included that gives guidance on how to calculate a consolidated BEE Certificate for a JV.
A revised table for the B-BBEE Generic Scorecard corrects the old one that was incorrect and includes Bonus Points to achieve 118 points.
Revised Code 300: General Principles for Measuring Skills Development

The Skills Development Generic scorecard is amended as follows: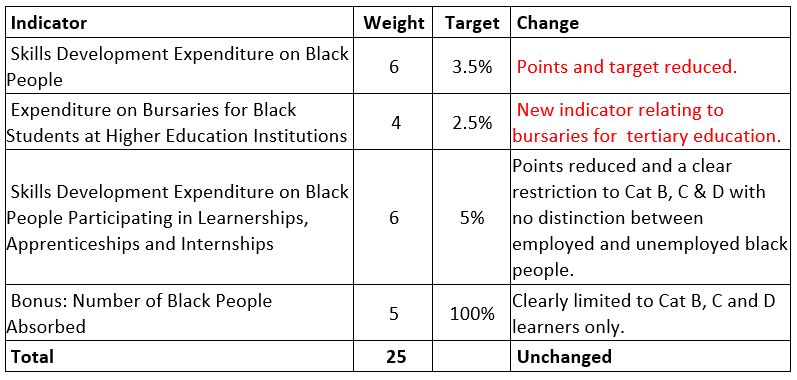 The points available under skills development and bursary expenditure are now

10 vs 8 before although the combined target remains at 6%

.
The application of demographic targets includes Bursaries but the formulae are unchanged.
Double counting of initiatives under skills development expenditure and bursaries is not permitted.
The 40% sub-minimum for Priority Element compliance is clarified as 8 points.
The cap on informal and workplace skills development expenditure under Category F and G learning programmes are

increased from 15% to 25%

.
The provisions regarding recognisable expenses for Category A bursaries are extended to include ancillary costs for subsistence, catering, travel and accommodation etc without a limit.
The cap on ancillary costs remains at 15% but the cap does not apply to Bursaries.
The inclusion of Stipends under Formal Skills Development expenditure is extended to include Category A Bursary students.

So now one can claim stipend expenditure for Category A, B, C & D Learners

.
The Narrative Description of Category A in the Learning Programme Matrix is amended.
The corrected EAP formulas, previously provided in Gazette 38765, are included.
Revised Code 400: General Principles for Measuring Enterprise and Supplier Development
The ESD Scorecard is amended as follows:
The rules relating to NPAT usage are clarified – they were missing before and were assumed based on the wording for SED.
The multiplier of 1.2 for first-time suppliers is removed and replaced by a 1.2 recognition boost for purchasing from 51% Black Owned or Black Woman Owned suppliers whose qualification is achieved using the flow-through principle and not the modified flow-through principle.

Beneficiaries of ED and SD contributions must be 51% Black Owned or Black Woman Owned EME or QSE suppliers whose qualification is achieved utilising the flow-through principle

.  This is going to unravel many BEE ownership structures that depend on Modified Flow-through for their 51% or 100% Black Ownership credentials.

Generic Entities may also qualify as ED or SD beneficiaries if they were previously EMEs or QSEs who first received assistance from the Measured Entity within the past 5 years

.

A similar qualification applies to procurement from Generic entities recognised under the EME or QSE indicators i.e Procurement from a 51% Black Owned or Black Woman Owned Generic Supplier (using flow-through only) can be counted as procurement from an EME of QSE if the ME first  procured from them within the past 5 years while they were still an EME or QSE

.
The Benefit Factor Matrix is amended in that 50% of Guarantees provided on behalf of a Beneficiary can be claimed instead of 3% as before.
The increase in the points and target in respect of procurement from 51% Black Owned Suppliers strengthens the significance of black ownership and weakens the significance of a supplier's BEE Level. This is because the 5 points for B-BBEE Procurement Spend from all suppliers are often achieved and organisations are looking for Procurement points elsewhere in the scorecard.  11 points (equivalent to 2 levels) is critical especially if the multiplier of 1.2 (for use of flow-through) also applies to the scoring!