Maximise your BEE rating for your current financial year
An entity is classified as detailed below based on the turnover as per the Annual Financial Statements for the financial year being verified.
EME – Less than R10 million
QSE – Above R10million up to R50 million
Generic – More than R50 million
The elements as per the amended Codes of Good Practice are as follows:
Ownership – Measures black shareholders, members, beneficiaries at the financial year end
Management control – Measures black directors and managers at the financial year end.
Skills Development – Measures the training spend during the financial year under review on black people and employees internally and externally and includes black learnerships.
Preferential Procurement – Looks at supplier spend during the year under review – scorecards are required from suppliers who MUST be Empowering Suppliers.
Enterprise and Supplier Development (ESD) – Quantifies donations to more than 51% black owned enterprises with less than R50 million turnover (monetary, time, goods) in terms of an agreement.
Socio – Economic Development (SED) – Quantifies donations to organisations (monetary, time, goods) where more than 75% of the beneficiaries are black individuals.
From 1 May 2015, Employment Equity has been incorporated into the Management Control and Skills Development elements, and Preferential Procurement and Enterprise Development are combined into one element.  Enterprise Development has also been expanded to include Supplier Development.
Please note that if your entity's turnover exceeds R10m and less than 51% of the shares are owned by black shareholders, your ESD and SED contributions must be made before the last day of your financial year or the contributions will not be included in your rating for that period.
The spend on Skills Development for black people and black employees must also be incurred before the end of the financial period. The amended Codes includes training spend on black people who are not your employees and affords you the opportunity to invest in targeted future employees of the entity through bursaries, training through other entities and the like.

The amended Codes have also separated the ED contribution into two parts being Supplier Development and Enterprise Development.  Therefore, your contribution of 2% (QSE) or 3% (Generic) of Net Profit After Tax (NPAT) must be allocated as follows (where you do not fall into a Sector Code):
Supplier Development (EME or QSE in your supply chain that is at least 51% black-owned)
2% x NPAT (Generic)
1% x NPAT (QSE)
Enterprise Development (EME or QSE in your supply chain that is at least 51% black-owned)
1% x NPAT (Generic and QSE)
The contribution of 1% x NPAT for SED remains unchanged for QSE's and Generic Enterprises.
If you are unsure whether you have earned your maximum points for these two elements for your current financial year, please contact Fatima Bapukee or Alexis Sacks to ensure that you achieve the best possible rating for your business.
The amended Codes of Good Practice have also introduced the concept of an "Empowering Supplier" to be awarded a Recognition Level Percentage on an entity's scorecard. Only an Exempt Micro Enterprise (EME) with a turnover of less than R10m or a Qualifying Small Enterprise (QSE) that is more than 51% black owned, will be granted automatic Empowering Supplier status. An overriding requirement of the concept of "Empowering Supplier" is that the South African entity must be in good standing and compliant with all the regulatory requirements. Whilst this definition has yet to be clarified, it is clear that as a minimum, it refers to an entity's tax compliance status, the regulatory requirements to submit the required reports to the SETA, Employment Equity reports for designated employers, annual returns to CIPC, licence renewals and the like.
Furthermore, as the submission of the SETA reports directly affect the Skills Development element rating of the B-BBEE scorecard, it is a requirement for entities to submit these plans to be allocated points in terms of the Skills Development element of the scorecard. And Skills Development is now a priority element of the amended Codes of Good Practice.
All designated employers in terms of the Employment Equity Act (EEA) are required to submit their EEA reports on an annual basis or face punitive fines and penalties, starting from R1.5m. Furthermore, the submission of these reports is a requirement for entities to be rated in terms of the Management Control and Skills Development elements of the scorecard as EE has now been combined with these elements.
A designated employer has 50 or more employees or in the event that there are fewer than 50 employees, the turnover threshold has been reached as follows: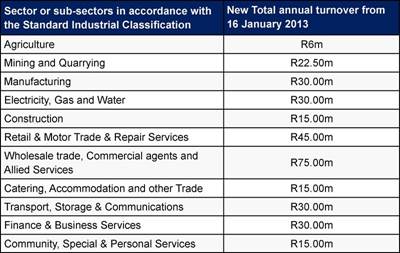 We also urge you to ensure that all your income tax, VAT, payroll requirements are in order and a tax clearance certificate application can alert you to any outstanding requirements.
And don't forget to take advantage of our other BEE value offerings that include:
Regular newsletter and blog updates of what you need to know to ensure that BEE works for your business
Free updates on new developments and trends that provide you with planning opportunities for your business
Free assistance with leveraging your B-BBEE status as a competitive advantage in the market.
Access to our Supplier database to save you time collating your supplier scorecards
Telephonic support and guidance from our qualified verification specialists for all your BEE queries
Training of your staff through the verification process as part of the BEE verification
We also have the following Value Offerings other than normal verification services:
B-BBEE Awareness and Training
B-BBEE Assessments and Scenario Developments to determine what you need to do to comply or better your score. We develop various scenarios and strategies to determine the best empowerment roadmap for successful transformation.
Professional advisory service on B-BBEE and technical support through the implementation of B-BBEE plans.
Provide comprehensive empowerment analyses that not only address the overall empowerment status of the organization, but also focuses on where your risks and opportunities lie.
As this is the first year of the amended Codes, and the amended requirements are far more onerous than before, we urge you to contact us to assist you with planning for your next verification before the end of your financial period.

All material subject to our Legal Disclaimers.