"A fundamental concern for others in our individual and community lives would go a long way in making the world the better place we so passionately dreamt of". – Nelson Mandela
We believe in sharing our success and appreciation with the community and our clients. Our vision of "Financial Leadership Through Professional Excellence" goes hand in hand with our corporate social responsibility offerings.
We have made donations to the following charitable organisations on behalf of our clients, as we continue to work with and support those in need.
2017
Rosh Hashanah
We supported Astra Jewish Sheltered Employment on behalf of our Jewish staff and clients for Rosh Hashanah this year.
– Astra Jewish Sheltered Employment
The centre provides a comprehensive service to members of the Jewish community who have special needs (intellectual disability and/or mental illness). The service focuses on developing their potential.
It provides employment to 65 Jewish men and women who are unable to work on the open labour market.
Workers are taught skills in a protective and supportive environment They are involved in contract work, such as packaging goods for companies, packing circulars, as well as manufacture of a large range of unique and high quality craft goods, which are in great demand in the market place.
There are various departments: painting, woodwork, needlework, weaving, catering and philately.
The Workers enjoy the dignity of being occupied daily. This enhances their self-esteem while at the same time giving them the opportunity for social contact.
A team of dedicated staff provides counseling, life skills training and encouragement for growth in a nurturing and caring environment. Parent support and counseling is offered where necessary.
This program me is recognized worldwide and is acknowledge as a leader in the field of mental disability.
SUPPORTED EMPLOYMENT – WORKABILITY
This supported employment service assists people with special needs to find employment on the open labour market. Ongoing support is offered to the client, the employer and the family. The process involves assessment, work preparation, job coaching, job placement, counseling and support.
Click here to read more.
"We are most grateful for this kind support and understanding of our work for those members of the community with special needs.  This donation will assist us to improve the quality of life of those we serve in our community.  We appreciate being able to share Yom Tov with you in this manner."

Nelson Mandela Day
The Staff of MD Accountants & Auditors Inc celebrated Mandela Day by collecting books and donating them to John Nicholson's children's library.
In 2005, John, who lives near Lavender Hill, converted his backyard into a library so that children in the area would have a place to read, do homework and play games.
We were thrilled to collect our target figure of 67 books and we are also very proud to know that we have helped make a difference in young people's lives.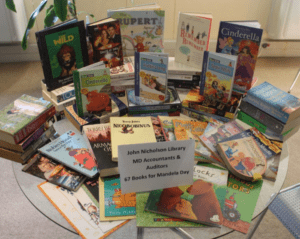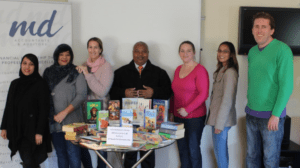 Eid
Wishing all our Muslim staff, clients and colleagues Eid Mubarak. And in the spirit of giving, we have made a donation to The Mustadafin Foundation.
 – The Mustadafin Foundation
The Mustadafin Foundation was established in 1986 during the Apartheid era. It emerged as a result of political unrest and violence in the Crossroads township. Crossroads, at that time was isolated and violence that erupted was due to faction fighting. It had a devastating effect on the local community, particularly women and children.
This material is from The Mustadafin Foundation website, click here to read more.

Tekkie Tax Day – 26 May
Our staff took part in National Tekkie Tax Day this year by donating money, and wearing stickers and their takkies to work on Friday, 26 May.  The five types of organisations being helped by this effort include those helping children, animals, those with disabilities, education and those bringing hope to others.
1000 Women Trust – March
We made a donation in support of the 1000 Women Trust.  A very worthwhile cause who depend on fundraising to strengthen women-led initiatives across the country that work tirelessly to bring hope, protection and knowledge to women living in abusive relationships. Their theory for change is that if women have access to resources, skills and information they will take advantage of strategic opportunities to advance human rights for women.
Fire Fighters Relief Fund – January 
We supported the remarkable men and women, as they bravely fight the fires in our Province.
Soil for Life
Soil for Life is a non-profit organisation (NPO) based in Cape Town, South Africa, that helps people learn to grow healthy, organic food using simple, low-cost, environmentally-friendly methods.
Life Choices
Ongoing Corporate Social Investments:
 – CSI Link
CSI Link have identified a gap in the market for smaller to medium sized enterprises who have money allocated to Corporate Social investment(CSI) and need maximum returns with minimum effort. They will ensure that the company's desired spend is linked to carefully selected NGO's, reducing admin and hassle for companies whilst ensuring they get maximum B-BBEE points.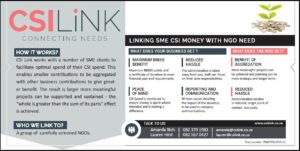 For more details, please see their flyer and website at www.csilink.co.za .
 – Mhani Gingi Social Entrepreneurial Network
We assist Mhani Gingi in a business advisory capacity.
Mhani Gingi – when translated into English – stands for a caring industrious woman who is always looking for lasting solutions to social problems. Mhani Gingi is a non-profit organization that strives to provide innovative business solutions which are sustainable and profitable and contribute towards alleviating poverty in South Africa.
This material is from the Mhani Gingi website, click here to read more.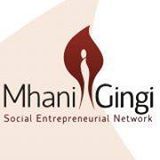 – Atlantic Hope
Atlantic Hope believes that every child should have the best possible start in life. We serve as an immediate and temporary safe haven for newborns and infants who have been abandoned, removed from their parents care, or are awaiting adoption.
This material is from the Atlantic Hope website, click here to read more.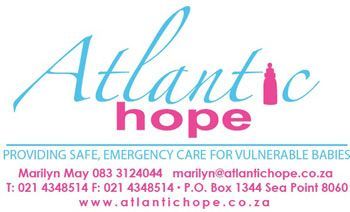 Please click here to view a beautiful video made by Atlantic Hope.  The work that they do is truly extraordinary.
 – Toy Run
Toy Run® has become an icon in South Africa since its inception in 1982 and is celebrating 30 years of giving and caring for those less fortunate during this special time of the year. Motorcycle enthusiasts across the country will be riding out in numbers once more to participate in Toy Run events that will be hosted across South Africa.
This material is from the Toy Run® website, click here to read more.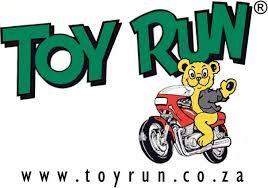 – Save the Children Fund
Save the Children is the leading independent organization creating lasting change in the lives of children in need in the United States and around the world. Recognized for our commitment to accountability, innovation and collaboration, our work takes us into the heart of communities, where we help children and families help themselves. We work with other organizations, governments, non-profits and a variety of local partners while maintaining our own independence without political agenda or religious orientation.
This material is from the Save the Children Fund website, click here to read more.
 – OneSight
For more than 20 years, OneSight has been committed to providing clear vision to millions in need through the hand-delivery of primary vision care and eyewear. We also donate millions of dollars to fund research towards the prevention of optical diseases.
This material is from the OneSight website, click here to read more.

2016 | 2015 | 2014 | 2013 | 2012 | 2011 | 2010 | 2009 | 2008 | 2007