The dti phase 2 workshop 26/11/2014 presentation
Highlights of the presentation of the dti phase 2 workshop held 26/11/2014:
Overview
o   The BEE Amendment Act regulations work was scheduled for completion end November 2014; this has since been extended and the teams are busy finalising their work. The commentary period has been extended to 60 days as per the regulations, being 9th of December and requested stakeholders to provide comments and input;
o   The importance of submitting the comments and that the dti does look into these;
o   Process currently underway with 4 main sub-committees working on the Verification Manuals. This work is expected to be completed by January 2015;
o   BEE Commissioner will be appointed by March 2015 and any interested parties to submit their CVs to the dti;
o   BEE Professional Body started its work and all industry players have been invited to participate.  This will take the form of IRBA / SAICA format where all industry players including Verification Agencies (VAs) and consultants will be part of and will go through the same training with specialisation courses;
o   The Trumping clause was deferred to give companies time to align and implement (12-month period Oct 2014 to Oct 2015);
o   The dti is also introducing new requirements for BEE if companies wish to access dti grants;
o   The MDP qualification will now be structured the same as an Auditor qualification which will be approved by the Regulator and it will apply to VAs and Consultants. Recognition of Prior Learning will be recognised by the universities and one does not need to start the course from afresh;
o   The dti is unsure of the status with SANAS but they are seen to be playing an important role in professionalisation. SANAS and the dti are currently in discussion with regards to extending the scope of accreditation and it will be communicated once finalised;
o   Sworn affidavits are free and no RA must charge for or sell it. A pronouncement will be made and will be effective 01 May 2015. The policy decision taken regarding affidavits will still remain;
o   The Modified Flow Through principle will not be allowed and the dti is going to close the gap;
QSE Scorecard presentation (Notes)
There are three priority elements and the Measured Enterprise (ME) is to comply with two.  Ownership is Mandatory, then choose between Skills Development and Enterprise and Supplier Development (ESD)
Empowering Supplier, ME to comply with at least 1 requirement
Under point 1.2.3 of the Ownership element, the ME to choose to comply with either "Black New Entrants" or "Qualifying Designated Groups" and not both
Non-Executive management refers to all other Managers including Senior, Middle and Junior Managers
Black people refers to the definition in the old Codes
Discounting principle on ESD to be applied at each sub-category. i.e. if you meet the 40% sub-minimum on two Preferential Procurement (PP) and Skills Development (SD), but do not meet Enterprise Development (ED), the discounting principle will be applied. ME to meet all sub-minimum on all three sub-categories
No more cumulative option on ED or SED programmes, only on the Generic scorecard
Questions – QSE Scorecard
As there are no learnership points on the scorecard, can ME continue to claim stipend / allowances paid to learners?
–  Yes they can, apply as per Generic
Exempted EME and QSE's only need an affidavit, so how will they confirm the status of Empowering Supplier?
–  The dti is working on the status of Black owned EME and QSE's and will advise. This is part of the workshop debates to be held.
Can exempted EME and QSE (Black owned) apply the modified flow through principle?
–  No, only effective (direct) black shareholding can be applied
How do you deal with non-Black / White intermediaries who manage the ED programmes on behalf of the ME?
–  We look at the beneficiaries and not the intermediary or any third party
Specialised Scorecard Presentation (Notes)
Under ESD element, only PP is measurable no ED or SD
Use Net Profit After Tax (NPAT) or Budget allocations to determine targets
ME with beneficiaries who are more than 75% Black automatically qualifies for exemption as level 1
5.2.1 refers to "… Black staff…"
Questions – Specialised Scorecard
How do we measure SD plans?
–  You do not measure a plan, ensure the plan exists but measure as per the scorecard initiatives
There is no transitional period
Statements 102 and 103 – Presentations
Net Value doesnot apply to Statement 102
Statement 103 programmes are approved for 10 years, and therefore ME enjoys the benefit for 10 years. Thereafter a review / top up programmes are considered
Statement 102 and 103 – Questions
Does statement 103 (Equity Equivalent) apply to South African multinationals, where non-RSA operations are excluded?
–  This is still under review
Under Sale of Asset, if the 25% sold asset grows to be 75% of the combined asset with the measured entity in year 2 and 3, can the ME then claim 75% Black ownership?
–  No, the ME sold only 25% therefore they can only claim what they sold
Statement 003 presentation
Current process of gazetting Transformation Charters under section 12, before the Sector Codes are gazetted under Section 9.1 still applicable
All current Sector Codes to be aligned to the revised Codes before the cut-off date of 01st of May 2015
The MAC Sector Code is the only Sector Code that will be introduced with the other 9 Sector Codes when they are finalised
Any other Sector Code to be introduced will follow the normal process
Where a Holding Company has various subsidiaries in different Sector Codes, the Holding Company can elect to be verified on the Generic scorecard but the subsidiary MUST be verified under the respective Sector Code
Government is looking at the Retail Sector and Events Technical Production to transform and submit a transformation plan. The Automotive industry is already in negotiations with government.
Questions – Statement 003
Do Verification Agencies have to undergo the competency based process to verify the Sector Codes when they are published in May?
–  The dti is currently working with SANAS with the view of affording the already approved Verification Agencies automatic scope extension. The dti will advise in due course.
If Holding company is measured under the Generic, can they use their certificate to conduct business for a subsidiary?
–  The client will decide, if they agree yes, but if they insist on the subsidiary certificate they can also do that
The dti is in the process of finalising the Technical Assistance Guide and the Verification Manual.
It will now be a requirement that one must have a BEE certificate to renew a liquor license. The Liquor Board to specify a specific level and requirements for BEE when liquor licenses must be renewed.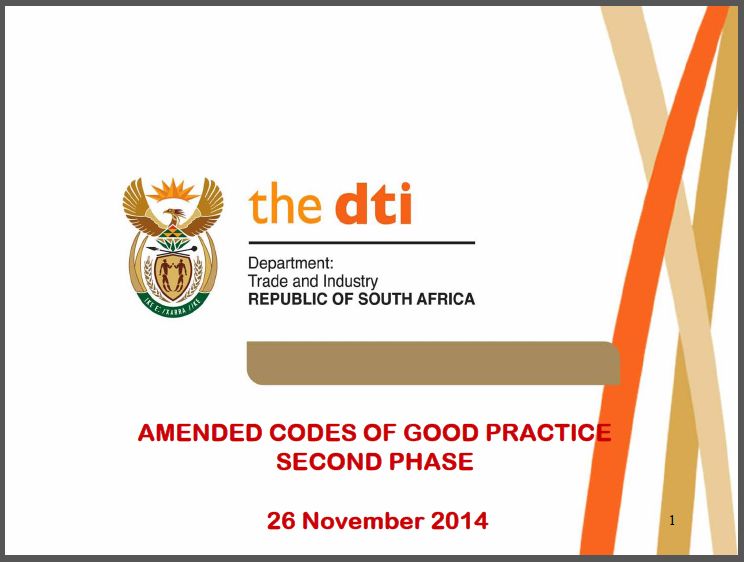 All material subject to our Legal Disclaimers.