Workmen's Compensation deadline – 30 April 2013
Although our blog post was a reminder to our clients to submit their 2012 Return of Earnings return before 30 April 2013, we are however not able to directly assist with contacting the Department of Compensation relating to queries on updated registration numbers or their internal accounts processes.
The Department has issued an online document to assist with problems and Frequently Asked Questions: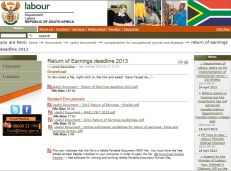 Alternatively contact the Department directly:
Operating Hours:
07:30 to 16:00, Monday to Friday
Telephone Number(s):
0860 105 3500
Fax Number(s):
012 326 1570 / 012 357 1772
Street Address:
Compensation House, Cnr Hamilton & Soutpans Streets, Pretoria
Postal Address:
P.O. Box 955, Pretoria, 0001
Email Address:
cfcallcentre@labour.gov.za
cfenquiries@labour.gov.za

All material subject to our Legal Disclaimers.